The surface low responsible for the weather we experienced yesterday and are having today is near Cleveland.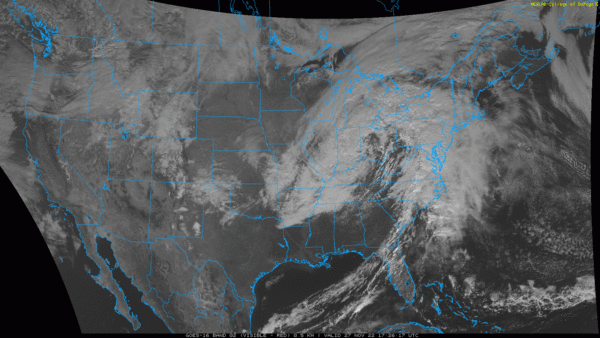 Thick clouds are over the Great Lakes and with the colder temperatures in the air where thick stratus and stratocumulus decks are common. The further south you go, the thinner the SC becomes. I would expect clouds to thicken up to I-20 in the south with more warming during the day. I'm guessing there might be a few drops under all those thicker stratocumulus clouds this afternoon and even tonight. But the rain won't matter much. Fog is likely to form tonight as winds ease in areas that manage to remain mostly clear.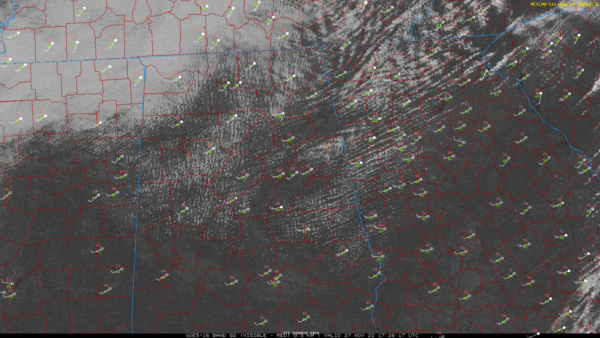 Boy, did that cold front slice through the state overnight, but the good news is that the air mass behind it isn't exceptionally cold. The front lies along a line from Clemson SC to Claxton GA to Carrabelle FL. The closest rain to Birmingham is now along a line from Savannah to Waycross.
Dew points are still in the 60's and even 70's on the Florida Peninsula, southeastern Georgia, much of South Carolina, and North Carolina. Behind the front, they're across Alabama in the '40s.
Temperatures are in the 50s in the Tennessee Valley and in the 60s in the rest of the state. That's about how the highs will shake out. The wind remains brisk, now from the southwest. They'll turn northwest tonight as the secondary front pushes through the state.
Parts of southeastern Virginia and eastern North Carolina have a low risk of severe weather today. There is a small area of ​​low risk in parts of West Virginia, Pennsylvania, extreme southeastern Ohio and the western Maryland Panhandle.
Lows tonight will be in the 40s across the area except for the far north where 30s are being recorded in a few places.
Highs tomorrow will be mostly in the 60's except over Northwest Alabama where readings may hang in the 50's in thicker clouds.
A surface low will sweep through the Midwest on Tuesday, bringing rain and storms to Alabama Tuesday night through Wednesday. A severe weather outbreak is likely in the Mississippi River Valley west of Alabama. Here is the SPC Day 3 Outlook showing a large area of ​​increased risk (3/5):
The storms should weaken over Alabama early Wednesday as they run out of fuel in the form of instability. We may have strong storms, but no major storms in Alabama. But as we always say in Alabama, expect the unexpected when it comes to severe weather.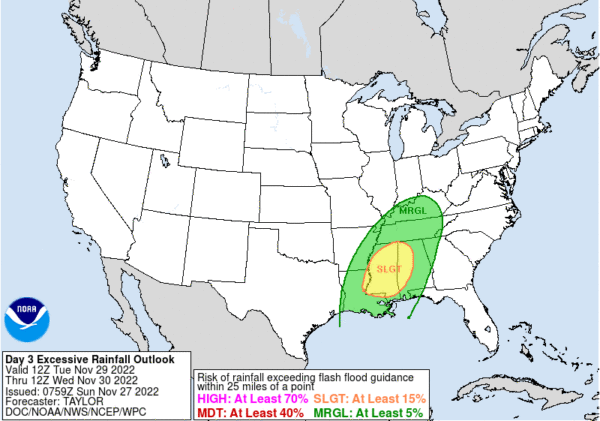 They won't run out of moisture, however, and the Weather Prediction Center forecasts western Alabama at a low risk of excessive rain. This product works similar to the SPC Outlooks. Widespread volumes of 1.5 to 2 inches are expected in north and central Alabama, with a zone of 2 to 2.5 inches volumes also likely. Flooding could be a problem.
category: Weather in Alabama, ALL POSTS