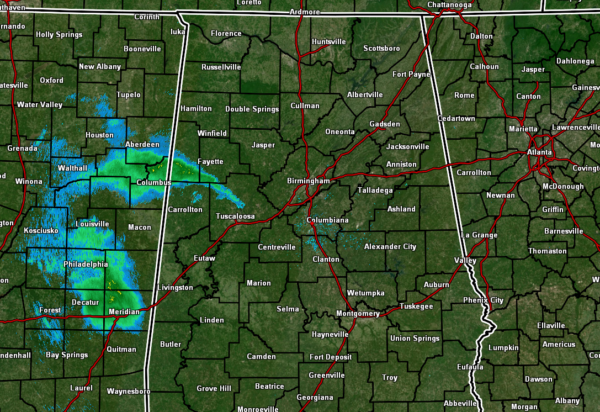 As we hit the 9 o'clock hour in Central Alabama, most locations are reporting partly sunny to mostly sunny skies. There is currently cloud cover and some light showers in some locations in the western parts of the area. The southern portions of Lamar, the southern and southwestern portions of Fayette, the extreme northern portions of Pickens, and the northwestern and north-central portions of Tuscaloosa counties are where these light raindrops fall. At this time, the rest of Central Alabama has no precipitation.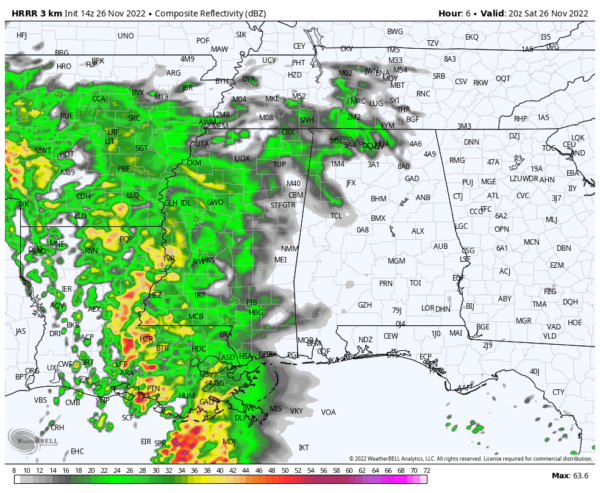 The most recent run of the HRRR continues to show that the main activity will remain to our west with this approaching system, with only a few showers moving across the western and northwestern parts of the area. This image is valid at 2:00 p.m. today and shows that there is some potential for light showers in Tuscaloosa just before the start of a game involving an iron bowl. Unfortunately, it looks like showers could return in the fourth quarter, which will make the end of the game interesting.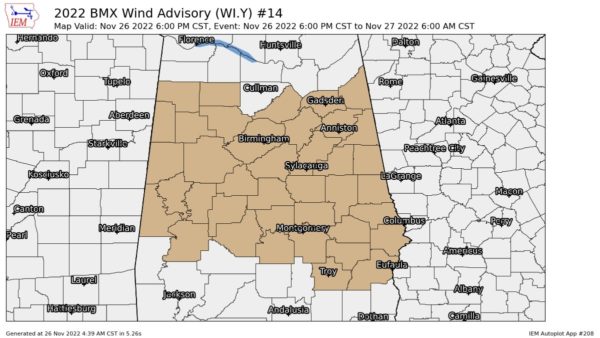 The breeze can also become an issue in the second half of the game as the wind increases over time as the system gets closer. At 6:00 p.m., a WIND ADVISORY comes into effect for all of Central Alabama, containing potentially gusty winds of up to 40 miles per hour. This wind guide goes through the night and night hours and is scheduled to expire at 6 a.m. on Sunday morning. All North Alabama counties are also subject to a Wind Advisory for the same timeslot.
For the extreme southern locations of Central Alabama, a Level 1 Severe Storm Boundary Risk has been established for the very low potential of damaging winds and a short tornado. This applies primarily to locations along and south of a line from Sweet Water (Marengo Co.) to Prattville (Autauga Co.) to Auburn (Lee Co.) to Fort Mitchell (Russell Co.). The timing looks to be from around 6pm tonight to 2am Sunday.
We'll keep you updated throughout the day, especially as expectations for today change significantly. I will have the next update by noon.
category: Weather in Alabama, ALL POSTS, Severe Weather
About the author
(author profile)
Scott Martin is a corporate weather forecaster, professional graphic artist, musician, husband and father. In addition to being a member of the National Weather Association, Scott is also a member of the NWA President's Central Alabama Chapter. Scott is also co-founder of Racecast Weather, which provides forecasts for many racing series in the United States. He also provides predictions for BassMaster Elite Series events, including the BassMaster Classic.