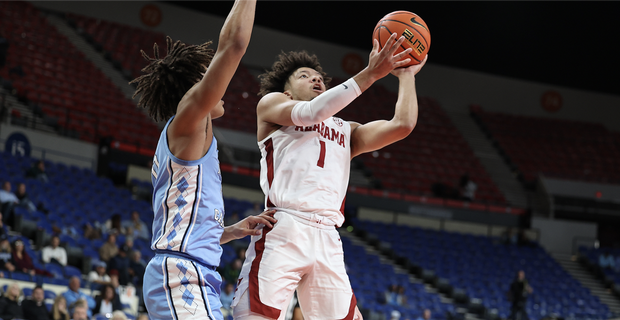 The Alabama men's basketball team overtook leaders North Carolina (103-101) in four-time overtime in the third-place game of Saturday's Phil Knight Invitational. The Crimson Tide withstood the early struggles of star newcomer Brandon Miller, missing starting forward Noah Clowney due to a lower-body contusion to earn the win and avoid a 1-2 over a four-day period.
Finishing 2-1 at the Feast Week tournament in Portland, Oregon, Alabama, ranked 18th for the season, moved up to 6-1 while the Tar Heels dropped their second PKI match and fell to 5-2. On Sunday, UA defeated a No. 1 team for the first time since defeating Stanford in 2004.
HOW IT HAPPENED
Mark Sears opened the game by dropping a three, and UA started the game by taking three of their first four tries from behind the arc to help Tide take a 12-7 lead. A three-pointer from Jahvon Quinerly ended a 9-0 run in North Carolina and set up the back-and-forth battle we'd see the rest of the way. Alabama built a 7-point lead after a Rylan Griffen, but UNC reduced to a one-ball game when the Crimson Tide trotted into the locker room at the Veterans Memorial Coliseum and held a 37-34 three-point lead over the top of the nation retained. rated team.
Miller scored his first points of the game with two free throws at the 17:57 mark of the second half, and he scored five straight points to give Alabama a 46-39 lead. But the newcomer canceled his fourth foul with 16:03. UNC cut the lead to one after six straight points from Armando Bacot. The Tar Heels used a 10-0 to take the biggest lead of the day at 63-55, but the Tide tied them at 71 apiece with a Noah Gurley three-pointer. Sears leveled the game with 77, and UA had a chance to win after the last regular-rules possession, but Jahvon Quinerly missed a knight.
Heading into overtime, a Charles Bediako steal led to a layup by Quinerly with 2:59 to play, giving UA their first overtime lead 81-79. UNC's Caleb Love equalized again with a layup of his own at the 1:43 mark, but both teams only picked up four points each in the first overtime. In double overtime, Bediako started with a few dunks while Quinerly and Jaden Bradley added layups to take an 89-85 lead by 2:20. Carolina erased the four-point lead with layups from Puff Johnson and Love to send the game into a third overtime.
After Bediako was out early in the 51st minute, the Tar Heels scored on a trio of layups to give them a quick 95-89 lead. A Miller triple cut the deficit to 96-94, and two free throws from Quinerly tied things up with 28 seconds on the clock. Two turnovers gave both UA and UNC a late chance, but they stayed en route to four-time overtime. A three from Leaky Black put Carolina 1:34 ahead to 101:100. UA took a 102-101 lead on a lay-in by Bediako, but Bediako's goalkeeping role was removed to seal the win for the Crimson Tide.
PLAYER OF THE GAME
Six Alabama players had double-digit points, with Sears (21 points) and Quinerly (21) leading the field. Sears was 7-for-11 of three and made more than half of the Tide's shots from across the arc. Bediako was huge on the stretch, finishing with a double-double with 14 points and 16 rebounds. After a rocky start, Miller also finished with 14 points, while Gurley (13) and Bradley (10) also finished in double digits. Five Carolina players were in double figures, with Love leading all scorers with 34 points in 58 minutes.
IMPORTANT STATISTICS
XXXX
Final: #Alabama 103, UNZ 101 (4OT) pic.twitter.com/yy09uRSEiR

— Charlie Potter (@Charlie_Potter) November 27, 2022
Oat Quote
*** This section will be updated shortly after Nate Oats' post-game press conference.
WHAT'S NEXT
Alabama will return home to host the state of South Dakota on Saturday, December 3 at 7:30 p.m. CT.
*** This story will be updated.
Did you know that BOL has a podcast? The BamaOnLine podcast brings you the latest Alabama news and insights from Travis Reier, Charlie Potter, Hank South and Tim Watts. Watch the latest episode exactly here or subscribe on iTunes today!
Contact Charlie Potter via personal message or on Twitter (@Charlie_Potter).