TUSCALOOSA, Alabama-Carnell Cadillac Williams swore the Tigers would run out the ball in the 87th Iron Bowl, and the Tigers did just that. However, Auburn's defense and passing offense fell short as the Tigers ended their regular season with a 49-27 SEC football loss in Alabama on Saturday.
For the first time in Auburn history, the Tigers played a third straight game in which two players rushed for more than 100 yards. Against the tide it was a jam for the second year Jarquez Hunter with 134 yards on 11 carries and quarterback Robby Ashford with 121 yards and two touchdowns on 17 carries.
"He's one of the better athletes I've ever been with," Williams said of Ashford.
Williams, who started the season as running backs coach, said he challenged jams Panzer Bigsby and Hunter to lead the way. "Like I told them, they have to be special," Williams said.
"I remember when I was appointed caretaker manager I sat down with them and just let them know you all have to be that spark. To whom much is given, much is asked. The good Lord has blessed her very much."
Williams said he challenged those guys to be a spark for the Tigers in practice. "I told the guys that the team will drive like you. Both guys are selfless guys and they work well together. It's amazing to watch them both and it's pretty cool to know how they feed each other because I experienced it many, many moons ago."
The Tigers finished the game with 318 rushing yards on 45 carries, but Ashford could only complete 11-23 passes for 77 yards and a touchdown. The rushing total was the highest Alabama allowed in an FBS game during the Nick Saban era.
Meanwhile, Alabama quarterback Bryce Young burned the Auburn defense with 343 passing yards and three points. He completed 20-30 passes. Young's speed as a runner was also a big component of the Tide attack. He ran the football five times for 48 yards and a touchdown while avoiding the AU pass rush in a game the Tigers failed to fire the Tide quarterback.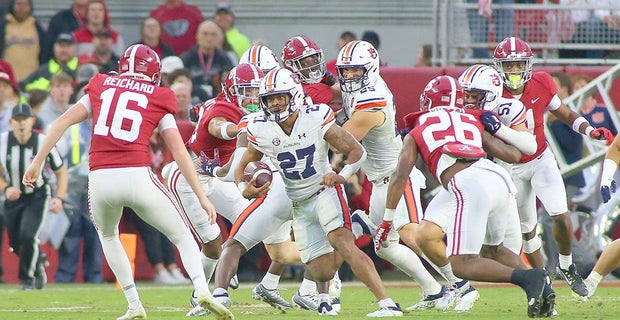 Hunter said the Tigers improved on offense as the game progressed. "We went out in the first half and played a bit slow but we kept playing harder and the offense picked up momentum."
Williams, who finished the season 2-2 as interim head coach, said Hunter did a great job in that role. "He did a great job. He gave everything in every training session and in every game."
Williams said he's glad he had the opportunity to lead the team. "For me, the Auburn family is the people, two decades ago I chose Auburn. It's one of the best decisions I've ever made," Williams said. "The last four weeks have been special. I'm talking about the absolutely special way the boys (players) came into my life."
The former Auburn All-American added, "Auburn is in a better place because of these seniors and the Auburn family," Williams added. "The future is bright."
*** Subscribe to: Get the latest news and information about Auburn***