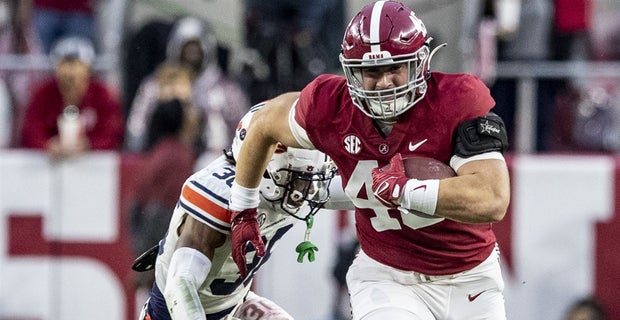 Alabama won its 10th game of the year on Saturday, marking its 15th straight 10-win season, with a 49-27 win over Auburn. The Crimson Tide produced 516 yards in offense while defense allowed the Tigers to gain 395 yards, including a Nick Saban-era-high 318 yards on ground. Here we distribute balls to the best individual performances from the win.
Bryce Young
If this was Young's last game at Bryant-Denny Stadium — or in an Alabama uniform, period — it was a stellar final performance. The star quarterback threw for 343 yards, three touchdowns and one interception while completing 20 of 30 passes. He rushed the field for 15+ yards on 10 plays, including five that went for 20 or more. Young also rushed for a touchdown and 48 yards with five carries. As the first player in UA history with multiple 3,000-yard seasons, Young showed his magic again, going 2-0 as a starter in the Iron Bowl.
Yes' Corey Brooks, Jermaine Burton
Young distributed the ball to nine different receivers, and both Brooks and Burton had great plays from a receiver standpoint. Brooks and freshman Isaiah Bond topped the team on receptions with four each, and the former converted those four catches into 76 yards and a touchdown, a 32-yarder in the second quarter. Burton collected three passes and finished the game at the highest level for 87 yards, averaging 29 yards per reception. He was on the receiving end of the longest game of the day — a 52-yard catch that produced a second-quarter score.
Robbie Ouzts
I'll be the first to admit that this list features many of the same players every week, but its first ball of the year gets Ouzts. In addition to his contribution to the running game as a blocker, the tight end had his best game as a receiver since stepping onto campus as a sophomore. Ouzts finished with two catches for 29 yards, marking the first game of his career with multiple catches and a career-high in receiving yards. He would have had three catches from 10+ yards if a pass interference penalty hadn't wiped him out of the box score. Still a big day for Ouzts.
The offensive line
The offensive line doesn't get much luster on these posts either, but the group deserves credit for their performance on Saturday. After Alabama gave up seven sacks in last year's Iron Bowl, Derick Hall, Colby Wooden and the rest of Auburn's defense didn't allow it to record a single sack in this season's game. The Tigers also recorded just three lost tackles and two rushes in the game. The Tide's fast attack was also solid with 173 yards and four touchdowns on 34 carries (5.1 yards per attempt) to give Alabama a nice balance on offense.
Will Anderson
The defense, on the other hand, was able to generate pressure, albeit late in the fight, and as expected, Anderson led that pass-rushing attack. In what will likely be his last home game, Anderson recorded five tackles, two sacks, three tackles for loss and two quarterback huries in his third Iron Bowl start. Alabama's defense couldn't stop the run, but the Star Edge rusher made some key plays late in the game. He will finish his career second on the all-time Tide list for sacks and tackles for loss, behind only Derrick Thomas.
Will Reichard
Reichard didn't attempt a field goal, but he did make all seven extra point attempts, which gave him 58 makes (on the same number of attempts) this season. He leads the SEC in PATs and has the third most in the nation. But we all know the reason "Terminator II" is here — the tackle he made in kickoff coverage to salvage an even bigger Auburn return and later standing over the returnee. Long snapper Kneeland Hibbett also deserves a shoutout for his heads-up play and retrieval of a muted Auburn punt that resulted in Tide taking a 35-14 lead.
Did you know that BOL has a podcast? The BamaOnLine podcast brings you the latest Alabama news and insights from Travis Reier, Charlie Potter, Hank South and Tim Watts. Watch the latest episode exactly here or subscribe on iTunes today!
Contact Charlie Potter via personal message or on Twitter (@Charlie_Potter).