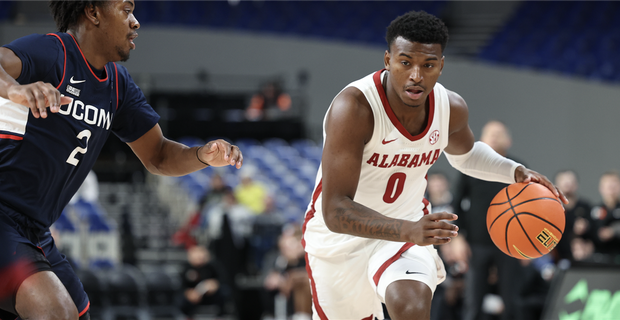 The Alabama men's basketball team lost its first game of the season Friday night, losing to No. 20 UConn, 82-67, in the Phil Knight Invitational semifinals at the Veterans Memorial Coliseum. The No. 18 Crimson Tide fell to 5-1 while the Huskies advanced to 7-0 in the season.
HOW IT HAPPENED
Both teams started strong on defense when the first basket of the game went through the net at 17:05. In a 10-10 tie at the U12 media timeout, UConn went on a 14-0 run. Brandon Miller drilled Alabama's first three of the game (make or try) at the 7:39 mark to end that run. However, by this point, the Crimson Tide had already turned the basketball over 11 times, resulting in 13 points for the Huskies. But Alabama overcame the rocky start and ended the first half on a 9-0 run to leave UConn just 35-30 behind UConn at halftime.
Down by as much as 15 points in the first half, the Crimson Tide hit back, tying things up with two free throws from Noah Clowney with 13-11 to play. The freshman forward scored five points to equalize in a quick 6-0 run. It went back and forth after that until the Huskies started a 12-0 run powered by Adama Sanogo, who scored seven of those points to give UConn a 68-53 advantage – equaling his biggest lead of the game. Mark Sears made UA's first three of the second half at 2:42 to end a 17-1 run, but it was too little too late.
PLAYER OF THE GAME
Sanogo led all scorers with 25 points in 9-of-16 shooting and was one of four Huskies to score double digits against UA. Jordan Hawkins (16 points), Alex Karaban (12) and Joey Calcaterra (10) also had big nights for head coach Dan Hurley. Miller, Alabama's star forward in the freshman, again led the Crimson Tide by 18 points. He also had a game-high nine rebounds. Fellow freshman Jaden Bradley was the only other Alabama player to hit double digits Friday night, posting a career-high 12 points in 19 minutes.
KEY STATISTICS
Early turnovers and poor late shooting plagued the Tide in the semifinals. Alabama committed 16 turnovers in the first half, but its defense and sharp shots from three kept it in the game. That shooting didn't carry over into the second half, where UA missed their first eight attempts from the 3-point line and went 2-for-10 in the final 20 minutes. Ultimately, the Tide and Huskies had similar shot counts — 43 percent (26 of 60) off the field for UConn compared to 42 for Alabama (21 of 50). Both teams shot 38 percent from three, with UA going 6 for 16.
Finals: UConn 82, #Alabama 67

The Crimson Tide meets No. 1 North Carolina on Sunday, November 27th in the PKI match for third place. pic.twitter.com/ExYcwOoe4n

— Charlie Potter (@Charlie_Potter) November 26, 2022
Oat Quote
*** This section will be updated shortly after Nate Oats' post-game press conference.
WHAT'S NEXT
Alabama meets No. 1 North Carolina, who lost to Iowa State on Friday, in the PKI third-place playoff. This game takes place on Sunday November 27th and ends at 2:30pm CT.
*** This story will be updated.
Did you know that BOL has a podcast? The BamaOnLine podcast brings you the latest Alabama news and insights from Travis Reier, Charlie Potter, Hank South and Tim Watts. Watch the latest episode exactly here or subscribe on iTunes today!
Contact Charlie Potter via personal message or on Twitter (@Charlie_Potter).