Auburn lost to Alabama by 22 points Saturday night in the 87th Iron Bowl.
Strangely, it didn't feel like a three-point loss.
Auburn interim coach Cadillac Williams' time as headman is over — and it didn't end with a whimper.
The Tigers haven't had a hard-fought loss since last season's Iron Bowl. And tonight it was 49-27.
Here are five takeaways from the Iron Bowl.
Carnell Williams patched up a disappointing season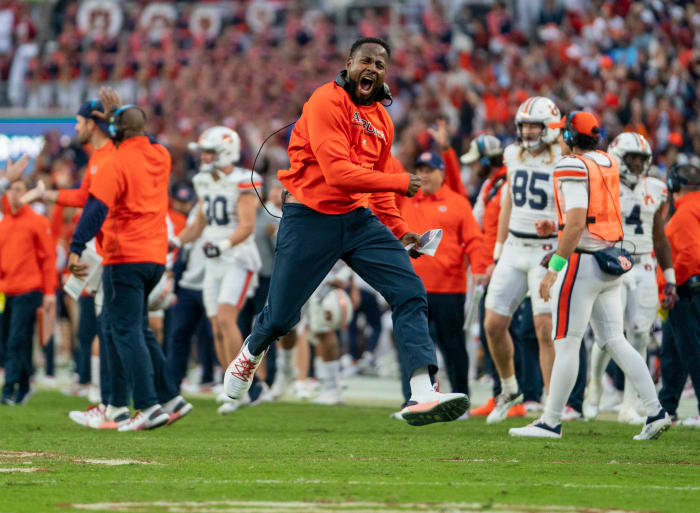 Williams is unlikely to get a legitimate look at Auburn's next head coach.
But the moment Cadillac took the lead, the emotional tone shifted in the fanbase — and apparently in the dressing room, too.
This team struggled through the final month of the season. Sure there were mistakes and defensive mistakes – it wasn't all perfect – but the team has heart.
It took a different kind of leader to really reveal that.
I think it could be argued that Auburn's best course of action is not to actually keep Carnell Williams — allow him to let him go and get another head coaching job. Gather the necessary experience. Then he should come back to Auburn and take control of the ship.
Imagine the support he would have.
Robby Ashford is still raw but continues to show potential
Statistically, it wasn't Ashford's most dominant day: he completed just 48% of his passes for 77 yards.
His 121 rushing yards (it was 139 before he took a few sacks late) was the most by an Auburn player since Tre Mason in 2013. Of course, Jarquez Hunter ended up with a higher total, but still — Ashford played his heart and deserves nothing but more time and patience.
Also, another fun note: His two touchdowns on the floor earned him Auburn's first individual multi-touchdown game in the Iron Bowl since Cadillac Williams in 2003.
Ashford is undoubtedly one of the best athletes on the team.
It will be about continuing to mold him into one quarterback when it comes to its future development.
It will be interesting to see what the next coaching staff will do with him.
The pass rush couldn't get home
Auburn's defensive line came under pressure at times in the game but never got close to Bryce Young.
Despite best efforts, Derick Hall was kept in check all afternoon. Part of that was thanks to Bama OT Tyler Steen, and part of that was thanks to the officials' choking whistles, who didn't award many penalties throughout the game.
The neutralized rush allowed Young to take his time with his reads and dissect the Tigers' downfield – he finished the game with 343 yards of pass to keep up with three TD passes (and a rushing TD).
The secondary have played well this season but without significant constant pressure they have been let down.
The two turnovers killed Auburn's momentum
There's reason to believe the Tigers would have stayed a little longer in this game than they did had it not been for the two fumbles in the first half.
The first was from Jarquez Hunter, who ran into the butt of John Samuel Shenker and lost the ball on a swing. The second was a supposedly muted punt by Keionte Scott, who clearly never touched the ball in the replay – the officials took a different view even after checking.
Both ball losses immediately led to points.
You can't, especially in a game like this.
The offensive game design was impressive
Will Friend and this coaching staff have put together a fun, creative game plan for these last four weeks.
They've done things the Tigers couldn't do under the previous head coach — wins or losses.
318 rushing yards is the most the Crimson Tide has given up since ceding 302 to Georgia Southern in 2011. It's the highest number Alabama has given to Auburn on the spot since 2013.
---
Must read stories
Hugh Freeze answers questions about the job as Auburn's head coach
Auburn is reportedly pursuing Hugh Freeze as the next head coach
Auburn can be headed to a bowl game even if they finish 5-7
Get involved on social media with Auburn Daily!
Join the Discord
Follow Auburn Daily on Twitter
Like Auburn Daily on Facebook
Subscribe to Locked On Auburn on YouTube
Shop Auburn Daily Merch