GREENSBORO, NC – 5-seeded Georgia Tech Volleyball (20-7, 13-5 ACC) received five All-ACC selections voted by the league's head coaches, the conference bureau said Monday. Older outside hitter Julia Bergman and graduated middle blocker Breland Morrisette at the head of the group, each recognized as First Team All-ACC honorees while serving as senior middle blockers Erin Mossjunior setter Bella D'Amico and sophomore Outside Hitter Bianca Bertolino Each earned second-team All-ACC honors.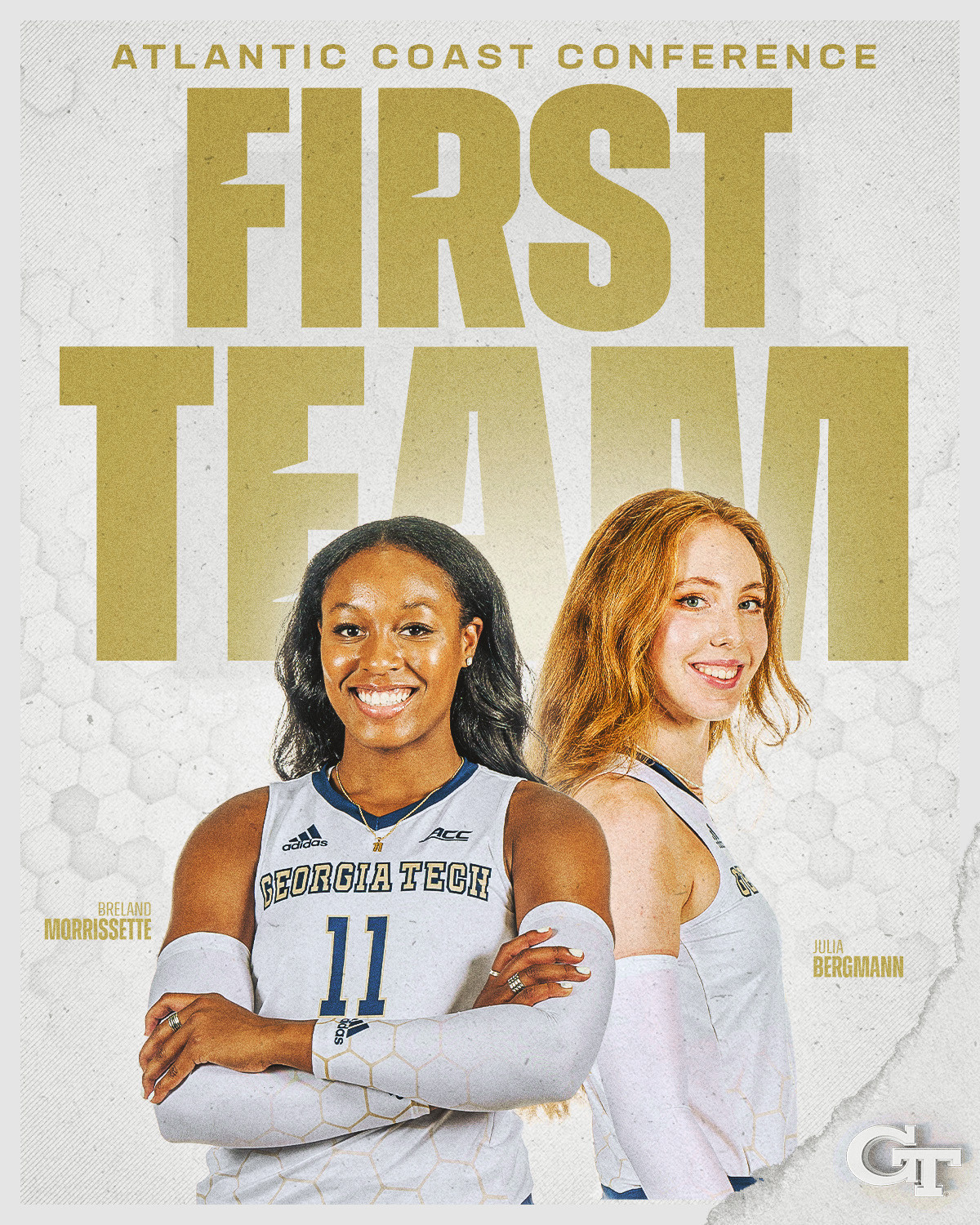 Bergmann bolsters her successful career by earning her sixth annual ACC honor and earning her third straight All-ACC honor for the first team, in addition to last season's ACC Player of the Year honors as well as the ACC Freshman of the Annual and ACC All Freshman Awards her first season at The Flats. The vaunted underdog has already picked up a host of weekly awards this season, including a GameChanger Division I International of the Week from the AVCA for the second time in her career, in addition to four ACC Player of the Week awards to coincide with her season a year ago in total. Bergmann continues to make waves in Tech's record books as she ranks sixth in career kills in program history (1,708), ninth all-time in single season kills (515), and fifth in The Flats in career kills -Aces (162) occupied. The "Ger-zilian," who is now one of five Yellow Jacket members of the 1,500-Kill/1,000-Dig Club, also broke the program record in a Florida State reverse sweep that season with 38 kills in a singles game and is the only Yellow Jacket match with 30 or more kills in a career with four. Bergmann continues to lead the ACC by a wide margin in offense and ranks ninth in the NCAA for kills (515) and 10th in points (577.5), while ranking third in the nation in both kills per set (5.31) and points per set (5.95).
Morrissette is making progress year after year, earning First Team All-ACC honors for the first time in her career. The Birmingham, Ala. native now owns two annual ACC honors after being recognized as a Second Team All-ACC a season ago. The staunch middle blocker has capitalized on her super senior season by leading the league and finishing seventh in the nation with a .434 clip. At over a block per set, Morrissette has hit 100 blocks in one season for consecutive years. Morrissette's season, which leads the team in both batting average and total blocks (101), was highlighted by an Ole Miss Invitational all-tournament team bid and a career performance against No. 7 Pitt that gave her previous career high of 11 kills wiped out 20 in a stunning .581 clip on two aces. Morrissette not only shone offensively in this match, but also had a career night on defense as she hit a personal best with nine blocks (three solos, six assists).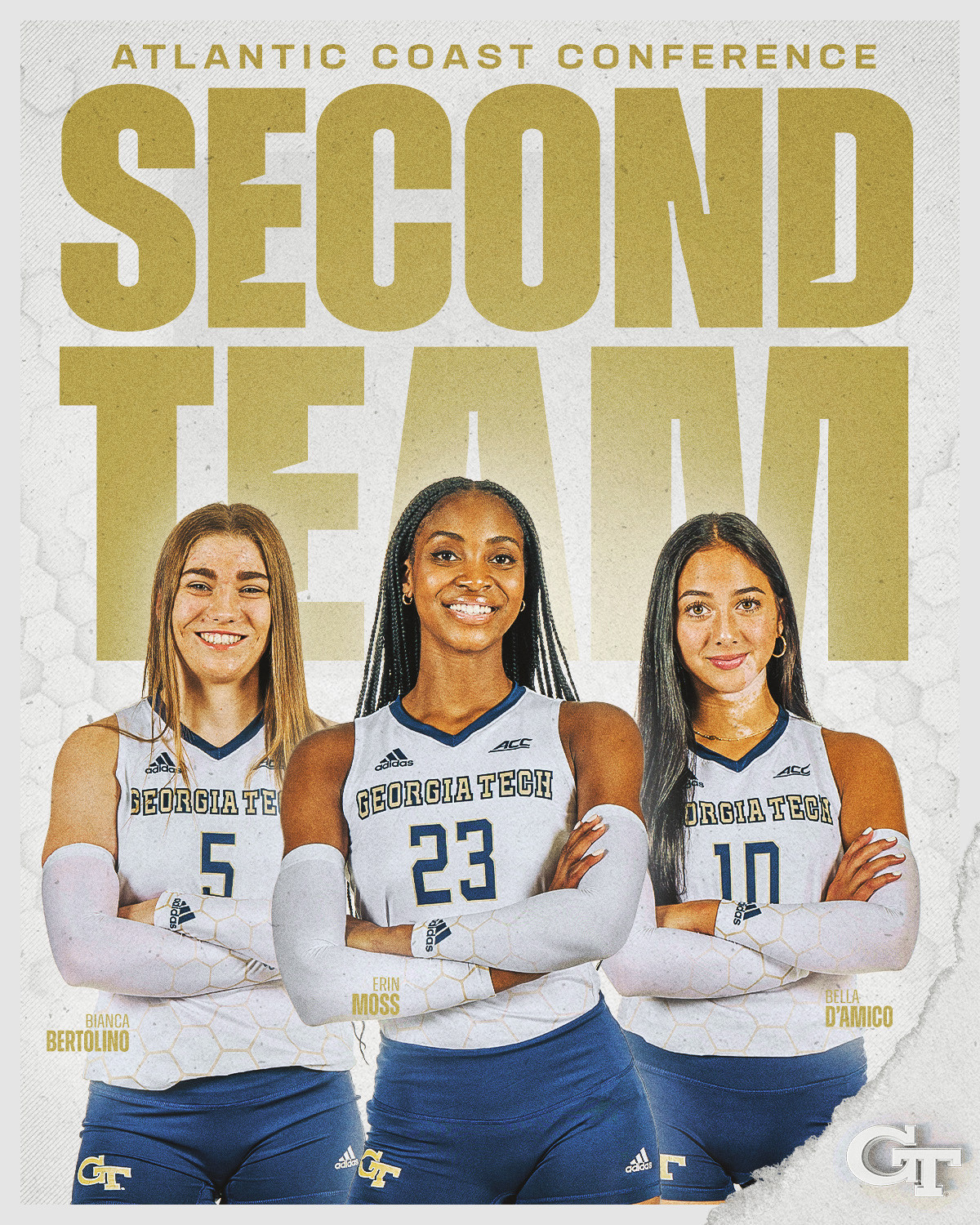 Moss, one of the most explosive Yellow Jackets on the roster, earns a second-team All-ACC spot, marking her first All-ACC recognition of her career. A native of Valdosta, Ga., she contributes on both sides of the net as she is second on the team in kills (207), hitting percentage (.336) and total blocks (101) and tied with Morrissette to eclipse the century mark. Alone, Moss has held his own defensively more than any other Yellow Jacket and leads the unit with 19 solo blocks. Averaging one block per set, Moss's batting average is also good for fifth place in the ACC. The senior also finished the regular season on a high note, hitting her career-high 14 kills in a Florida State sweep after setting her career-high total of nine blocks in a Boston College sweep earlier this year.
Junior setter who orchestrates one of the strongest offenses in the country all season Bella D'Amico was selected as a Second Team All-ACC for her first All-ACC honor of her career. The new center of the jacket attack quickly settled into her role, ranking fourth in the conference for assists per set (10.20) and total assists (989) while hitting 1,000 for the first time in her career Assists in a season approaching. In addition to leading the point, D'Amico contributed across the board, totaling 176 digs, 38 blocks, 20 kills and 13 aces. In one of the biggest matches of her career, D'Amico also recently broke two of her previous career bests by racking up 61 assists and putting together six blocks at No. 7 Pitt.
Bertolino follows her outstanding freshman season with another All-ACC recognition as her second-team All-ACC honor follows an ACC All-Freshman team selection a season ago. The steady presence across the board has contributed to her balanced playstyle and made up for her preseason All-ACC selection, finishing second on the roster with 336 and averaging 187 kills, 27 aces and 34 blocks overall. The Argentine was named to the GT Invitational All-Tournament team earlier in the season and has since peaked her career with 24 premier matchup wins, once against No. 5 Louisville and again against No. 7 Pitt.
Next
Preparing for NCAA tournament competition, Georgia Tech is heading to No. 4 Marquette (27-3, 17-1 Big East) to take on Wright State (28-3, 18-0 Horizon League) at 5 p.m. Thursday First round at the Al McGuire Center in Milwaukee, Wisc. All provisional seasons can be found here.
competition initiative
In a joint effort, Georgia Tech, the Georgia Tech Foundation, Georgia Tech Athletics and the Alexander-Tharpe Fund have joined forces to accelerate scholarship funding for students and athletes with the launch of the Competitive Drive Initiative. The initiative begins with the Accelerate GT Match Program, where every new donation to AT Fund's Athletic Scholarship Fund made through December 31 is matched dollar for dollar by the Georgia Tech Foundation, up to $2.5 million . Should Accelerate GT reach its fundraising goal of $2.5 million, the gift would result in a $5 million impact to Georgia Tech Athletics. To learn more and contribute online, visit atfund.org/accelerate.
For the latest information on the Georgia Tech Yellow Jackets, follow us on Instagram (@GTVolleyball), Twitter (@GTVolleyball), Facebook (Georgia Tech Volleyball) or visit us at www.ramblinwreck.com.