Georgia Tech at #1 Georgia
Saturday, Nov 26 Noon ET Athens, Ga. Sanford Stadium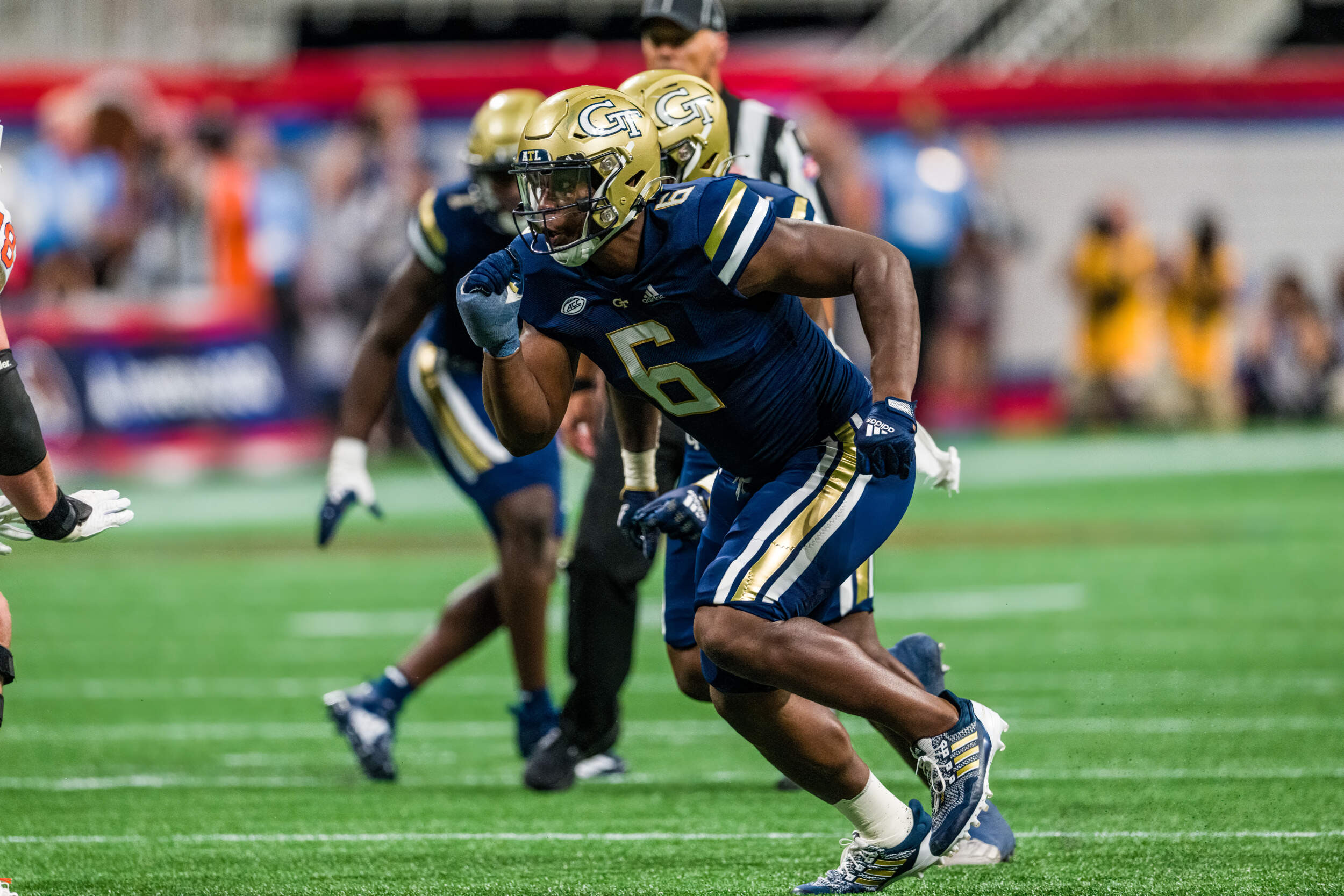 r-Sr. DL Keion White (6-up) was the only ACC player this season and the first Georgia Tech player since Jeremiah Attaochu in 2013 (vs Georgia) to record up to seven tackles, three sacks and four tackles in a single game on losses when he accomplished the feat last Saturday in No. 13/11 North Carolina.
Top Storylines
• Georgia Tech wraps up its regular season with the 116th edition of "Clean, Old-Fashioned Hate" at arch-rival and No. 1-ranked Georgia on Saturday.
• Georgia Tech celebrated its biggest win in a long time with a 21-17 victory at No. 13/11 in North Carolina last Saturday.
• North Carolina has been the highest-ranking team to beat the Yellow Jackets since their 22-16 "Miracle on Techwood Drive" win over No. 9 Florida State in 2015, and the highest-ranking opponent Tech has beaten away from home since 2014 Georgia 30-24 in overtime #9/10.
• Victory at UNC moved Georgia Tech to a 4-3 lead under interim head coach Brent Key, which includes a 2-0 record against top-flight national opponents.
• Georgia Tech's defense was key to North Carolina's win, beating the Tar Heels' top-flight offense (ranked 4th nationally on pregame offense total) and Heisman Trophy contender QB Drake Maye on 23 points and 140 total yards capped and 139 passing yards below UNC's season averages.
• r-Sr. DL Keion White was named the Bednarik Award National Defensive Player of the Week after becoming the only Atlantic Coast Conference player this season to record seven tackles, three sacks and four tackles for a loss in a game.
• Georgia Tech received votes in this week's AFCA Coaches Poll (two points), marking the first time since 2018 the Yellow Jackets have received votes in a major national poll and the first time since 2017 the Jackets have multiple Lost points in voting.
competition initiative
In a joint effort, Georgia Tech, the Georgia Tech Foundation, Georgia Tech Athletics and the Alexander-Tharpe Fund have joined forces to accelerate scholarship funding for students and athletes with the launch of the Competitive Drive Initiative. The initiative begins with the Accelerate GT Match Program, where every new donation to AT Fund's Athletic Scholarship Fund made through December 31 is matched dollar for dollar by the Georgia Tech Foundation, up to $2.5 million . Should Accelerate GT reach its fundraising goal of $2.5 million, the gift would result in a $5 million impact to Georgia Tech Athletics. To learn more and contribute online, visit atfund.org/accelerate.
Follow us for the latest on the Georgia Tech Yellow Jackets Twitter (@GTAthletics), Facebook, Instagram or visit us at www.ramblinwreck.com.