It would have been easy for Oklahoma State football coach Mike Gundy to be upset after his team's 19-24 loss to West Virginia on Saturday afternoon at Boone Pickens Stadium.
The loss in the regular-season finals marked the Cowboys' second losing streak this season after not having had one in three years. It marked their first losing record in a Big 12 Conference game since 2018. And it marked the end of a program record of 14 straight home wins
As easy as it could have been, Gundy wasn't upset.
"The only time I got frustrated was when our guys didn't compete and play hard," Gundy said after OSU's first loss to West Virginia since 2014. "I understand the situation. I know what's going on, so I have a little advantage."
The circumstances that faced Gundy and company against the Mountaineers (5-7, 3-6 Big 12) were the same that plagued the Pokes in the second half of the regular season – and then some.
OSU (7-5, 4-5 Big 12) started the season with a quarterback other than redshirt senior Spencer Sanders for the third time, and the defense allowed momentum swing plays at the worst times, all in the midst of sporadic ones , heavy rainfall.
"I don't know, maybe people want me to get upset and throw a fit because I lost, but I just don't see it where we are right now," Gundy said. "I want to win. … It's important to me to win too, but it's important that in my position I understand where we are and what's going on."
Real freshman quarterback Garret Rangel started in place of Sanders, who missed his third start in four weeks with a shoulder injury that Gundy says isn't "black and white." Rangel also got the nod in Sander's first absence when he threw 27-of-40 for 303 yards with two touchdowns and three interceptions during the Cowboys' Week 9 loss to Kansas.
WVU entered the competition with the 114th pass defense out of 131 FBS schools, allowing opponents to throw an average of 270.4 yards per game. Rangel was primed to match — if not surpass — his performance against the Jayhawks.
But conditions worsened as the game progressed, and Rangel failed to hit his intended targets on deep shots dialed in by Cowboys offensive coordinator Kasey Dunn.
"The matchups were in our favor," Dunn said. "We left some things out there, no question, that might have changed us.
"The hardest thing for me is that I just felt like we had this. I felt like the cowboys weren't beaten today. I felt like we had hit ourselves. I know when I look back on the tape there are enough opportunities for us to score and win the game.
Rangel ended up passing for 178 yards while completing 18 of 42 passes (43 percent). But he wasn't under as much pressure as he was against Kansas, and that's in large part because the Cowboys could run the ball as well as they have all season.
Already without starting running back Dominic Richardson and after Jaden Nixon retired from the second row through injury, freshman Ollie Gordon and redshirt student Deondre Jackson were called up. And they answered.
Gordon had the best performance of his young career with 17 carries for 136 yards — the most of any OSU ball carrier this season — and one touchdown. Jackson was complementary to the tune of 56 yards on 12 tries. Together, the duo averaged more than 6 yards per carry.
"You have to be able to run the ball to open the passes," said Cowboys' Braydon Johnson, who received the Senior Day honor before the game. "The fact that we could do that and get out early gave us a great chance to open up, throw the ball and take the win."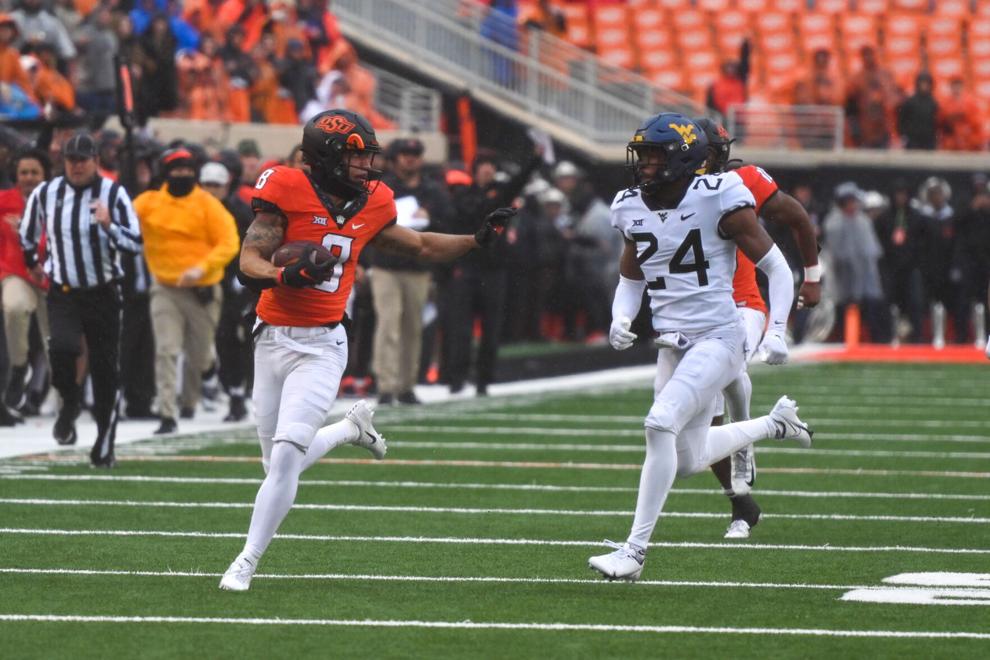 Dunn wanted to keep the ball rolling in the fourth quarter. It was effective, a stark contrast to weeks before, but the Cowboys didn't have time to keep putting the ball on the ground while trying to narrow the Mountaineers' 5-point lead.
It was really an advantage that WVU built up over three games.
After a missed punt gave the Mountaineers short field in the first quarter, second quarterback Garrett Greene used the first game of possession to find a seam on the left side of OSU's defense and jack off for a 36-yard touchdown.
And on the opening drive of the second half, Mountaineers running back Jaylen Anderson broke through the same left for a 54-yard touchdown. He did it again on the next drive, scanning the Cowboys defenders for a 57-yard score.
WVU accumulated 327 yards of offense against OSU, and 147 of those yards came in those three games.
"They just caught us on some things and hit the right call," said Cowboys safety Jason Taylor II. "That happens sometimes. You just have to try to fight your way through it and not let it happen. But you know, it happens sometimes."
The Cowboys let the Mountaineers run 250 yards, their second-highest total streak of the season. But they choked on the passing game, holding WVU for 77 yards on 23 attempts, with Taylor II actually intercepting Greene in the second quarter.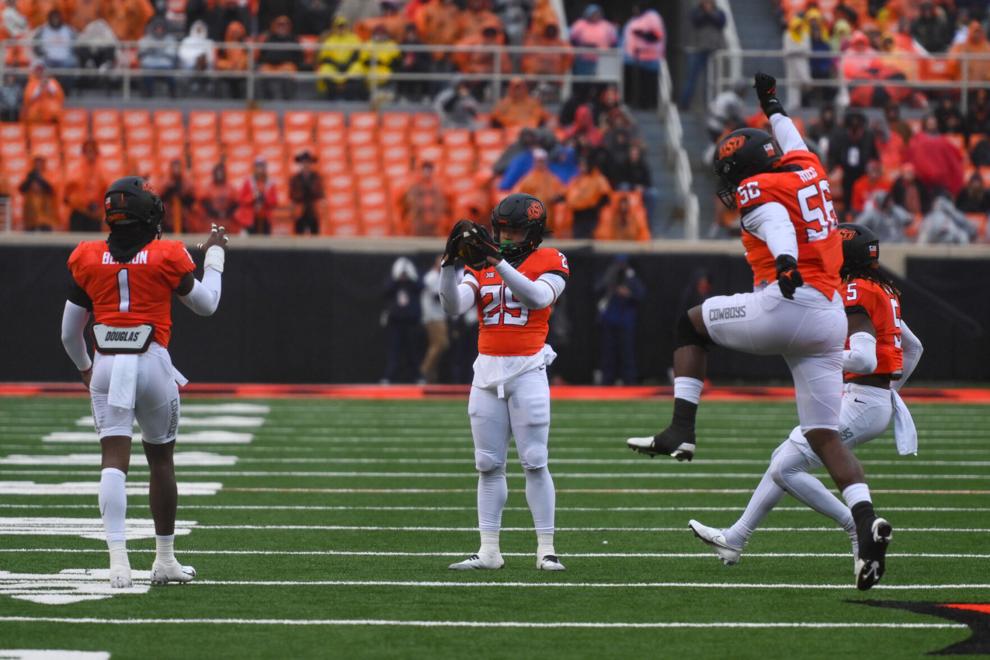 However, none of this matters. Those three plays, especially Anderson's two in the third quarter, were the difference.
"The bad news is they count," Gundy said of WVU's explosive results. "Apart from that, we played pretty well."
Once the Cowboys were a top-10 team with college football playoff ambitions, they don't have to worry about who will and won't be available next week. While the Big 12 Championship is being played, the Pokes will be watching from home, having been on that stage just a season ago.
After four losses in the last five games of the regular season, OSU doesn't have to prepare for anything until the program receives its bowl offer. It's an unwelcome end to a season that started so promisingly.
Gundy didn't waste much time giving players a week off after the loss. The season started on the first day of September and every week since has been a grind. But when the cowboys finally figure out what's in front of them, Gundy expects them to latch on and leave everything on the table.
"You don't get those days back," Gundy said. "You may play one more game in a bowl game. You have to enjoy this process and play your ass off."