Bing has worked for the company since 2010, most recently as a night team leader at the cavernous Walmart Supercentre just off Battlefield Boulevard in Chesapeake.
"The Battlefield Walmart was just shot by one of my managers. He killed a few people. By the grace of God I made it," another staffer, Kevin Harper, told CBS.
Jessie Wilczewski told WAVY-TV that she hid under a table and the gunman pointed the gun at her and told her to go home.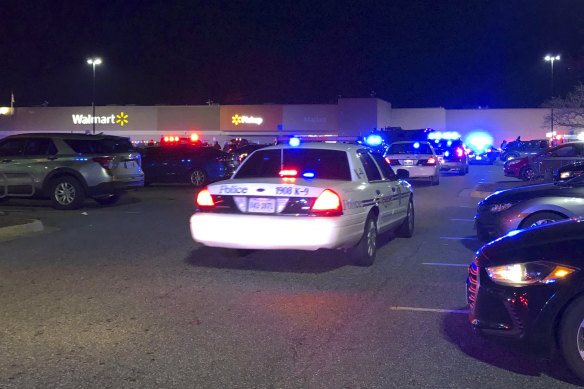 "It didn't even look real until you could feel the pow-pow-pow. You can feel it," said the branch employee. "I couldn't hear it at first because I think it was so loud. I could feel it."
Tuesday's bloodshed marked the latest outbreak of gun violence in the United States, which has an average of two mass shootings every day, defined as any incident in which four or more people are killed or injured, according to GunViolenceArchive.org.
Loading
Virginia Gov. Glenn Youngkin, already facing increased calls for action to combat gun violence in the wake of the University of Virginia killings, ordered flags to be flown at half-staff on local, state and federal buildings.
Kimberly Shupe told WAVY-TV her son Jalon Jones, 24, was stable after being shot in the ear and back. He told her he got in for his night shift around 10 p.m. and that his manager acted "strange" when they met late at night and "then started shooting," she told the news channel
dr Jessica Burgess, a surgeon who treated victims at a Norfolk hospital where two people died, two were in critical condition and one recovered, said she had contacted a colleague in Colorado Springs to offer support just two days earlier .
"So it's very disheartening that I now find myself in the same position as my colleagues from across the country who are checking me and my team in," Burgess said. "Sometimes we can only do so much when the injuries are already done."
It's not the first mass shooting at a Walmart that has thousands of stores across the country.
At a Walmart in El Paso, Texas, 23 people were killed in a mass shooting near the US-Mexico border in August 2019, in what law enforcement has described as domestic terrorism. It was also the deadliest attack on the Hispanic community in modern times. Patrick Wood Crusius, then 21, of Allen, Texas, was arrested in the shooting and left a manifesto with white nationalist and anti-immigrant themes.
"The devastating news of the shooting at our store in Chesapeake, VA by one of our employees last night has hit our Walmart family hard," Walmart chief executive officer Doug McMillon wrote in a LinkedIn post Wednesday.
Reuters